Williams in awe of Shelby Sixtysix's rapid rise to the Galaxy

Veteran horseman Danny Williams can't explain how Shelby Sixtysix has found his way to the Galaxy at Rosehill on Saturday and still has trouble believing the past couple of weeks.
The five-year-old wasn't rated highly enough to get a place in the South East Country Championships qualifier last month after being beaten at the Sapphire Coast in January.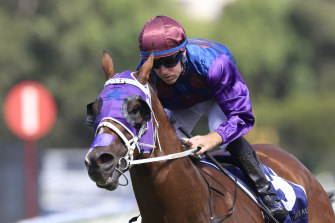 Fast forward six weeks and Shelby Sixtysix has not ony beat home the world's best sprinter, Nature Strip, and just failed to run down Eduardo in the Challenge Stakes, he has also won Saturday's Maurice McCarten Stakes. Now, he could become the group 1 fairytale of the autumn carnival in the Galaxy.
"I have been at this for 45 years and I don't understand it," Williams said. "He has always been a nice horse with his share of problems, but the past three weeks aren't supposed to happen.
"At the 200m [on Saturday] I got excited and pulled the whip and Max Presnell was in front of me and he has a sore back now.
"I was excited to win a Class 2 Highway with him three weeks ago, where he couldn't keep up at 1000m. The next week he is going past Nature Strip. Then to win a group 3 with him the next week is incredible – amazing."
Shelby Sixtysix is a throwback to old times, having been to the track seven out of the past eight weeks.
"We have a spa at home he goes in it and gets led off the pony and that's about it [between runs]," Williams said. "He used to have a problem with bone-bruising and he would pull up sore after gallops.
"We have been swimming him and it seems to have fixed it, and he is just enjoying his racing and the wet tracks."
Williams had eyed the Country Championships Wildcard with Shelby Sixtysix but as a group winner he is no longer eligible, so why not a group 1?
"We will keep the same routine and, hopefully, he will come out and run another big race. The way he is at the moment I wouldn't count anything out," Williams said.