Williams Out To Get Ahead Start On Kosciuszko Berth
By Ray Hickson
Trainer Danny Williams was all set to sell promising three-year-old Ahead Start but sentimental reasons are keeping him in Australia and gaining a run in October's $1.3m The Kosciuszko is the goal.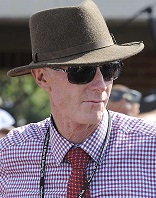 Trainer Danny Williams. (Pic: Bradley Photos)
The gelding has won three of his four starts and Williams revealed he knocked back $500,000 from Hong Kong after his Highway win last month.
It wasn't Plan A to throw Ahead Start in the deep end in Saturday's $300,000 Inglis Guineas (1400m) at Rosehill but Williams said a good performance would serve as an early advertisement for country racing's richest event.
"I wanted to sell him myself but some of the owners didn't want to sell,'' he said.
"One owner had lost his sister due to cancer only last month and his father has Alzheimer's and he always wanted to race a horse with him.
"Another guy who owns a share has been struggling to get motivated the last couple of years. They are some heartfelt stories.
"I guess if he was to run a nice race looking forward to the Kosciuszko, if he was to run first four, it might be better than winning a couple of Highways."
The Goulburn trainer has managed to secure a runner in each of the three editions so far of The Kosciuszko with Don't Give A Damn running in the first two and Prairie Fire gaining a start as an emergency last year.
Williams realises Ahead Start isn't well placed in the Inglis Guineas, coming out of Highway races, up against the likes of Prime Star and recent Hawkesbury Guineas winner Exoboom and at $21 with TAB the market reflects that.
Not only are that duo more experienced he's conceding up to 32 ratings points, or 16kg, and meets them on level weights.
Initially, Williams was going to spell the gelding after his Randwick win but the horse trained on well and he wasn't able to find a path to expose Ahead Start closer to the Kosciuszko that suited him at this stage.
"I understand placing a horse is difficult, particularly this day and age because races have got a lot stronger and more competitive,'' he said.
"It can be about presenting the horse at the right time. The last three years there weren't many in the race and that's why we headed this way.
"I wouldn't say it's any stronger but it's a bigger field and he's not without some sort of genuine chance to run in the top four.
"He's had a great preparation and I don't think we have a lot to lose."
James McDonald gave the trainer a positive review after riding Ahead Start to his Highway win, and was interested in sticking with the horse if possible but interstate commitments have handed Jay Ford the ride.

Ahead Start wins at Randwick on April 24
Williams is adamant the gelding will be a more furnished horse come spring but he has a will to win and that was evident as he charged to the line at Randwick, running a race best 11.66 for his last 200m (Punter's Intelligence).
"I'm sure after this preparation he is going to put it all together,'' Williams said.
"Well before this preparation we thought we had a horse that was capable of improving. It was a confidence booster out of the Highway.
"He has had a nice preparation, James through he was a little dour at the 1200m and was looking for further and the soft ground doesn't pose any problems."