A Highway Tale Williams Knows Well
By Ray Hickson
Trainer Danny Williams has his fingers crossed that the state's most prolific Highway competitor Tiger By The Tale can finally break through when he resumes at Rosehill on Saturday.
The Goulburn trainer has supported the Highway concept more than any other, with 80 runners since its debut back on October 17 two years ago.
He's had seven wins plus a dead heat (Matthew Dunn leads on 13) – his latest winner She Knows makes the step to midweek grade at Canterbury this week.
Tiger By The Tale was there when the inaugural Highway was run and half of his career has been devoted to trying to win one – Saturday's 1200m event will be his 15th start in what will be the 93rd Highway Handicap.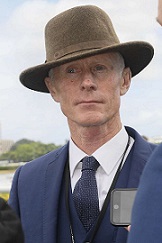 Danny Williams
"We own him and he's had not a lot of luck, he should have won a couple by now,'' Williams said.
"I thought his last run behind Clipper and Suncraze was very good form on a soft track which he doesn't love.''
Since that last appearance the six-year-old has undergone a wind operation.
Williams said he was surprised by the extent of the horse's problems but they went a long way towards explaining his in and out nature.
"We had a dynamic scope done on the horse and he was basically getting zero oxygen under pressure,'' Williams said.
"So for him to run as well as he's been running in the last 12 months you could say he's had genuine excuses for his inconsistency.
"He's come back a bigger horse and stronger horse this preparation. He's been back nearly 14 weeks so he should be fit enough.''
Williams has four horses nominated for the Highway with both Arronissement and O'Lordy expected to run while Harvest Dream has options at Wagga Wagga on Friday and Goulburn on Sunday.
"Arrondissement is not a 1200m horse, that's the downside of the race on Saturday but I didn't want to go three weeks between runs,'' he said.
"There's another Highway over 1400m the following week in mind but if the rain comes she'll come into it because of that. As it does for O'Lordy.
"She's come back bigger and better than ever before, perhaps she will need the run but if it is soft it comes into play for her.''
Most Highway Starts
14 Tiger By The Tale
9 Grand Rouge, Van Halen, Nic's Vendetta
8 King's Officer
7 Ocean Grand, Al Cubana, Attainment, Dashie de Luxe, Destined To Win.
Williams has three guidelines when it comes to selecting a Highway Handicap horse and his runner at Canterbury on Wednesday, She Knows, is a poster girl for those guidelines.
She Knows, a last start Highway winner at Randwick, contests the McGrath Estate Agents ACT Handicap (1100m) at just her fifth start.
"You have to have a horse on the way up, not too many starts and capable of performing in midweek company,'' Williams said.
"They are the three rules I try to use for my young hoses coming through.
"This race is a good progression for her, I'd like to see a bit of sting in the ground and if we get that she shouldn't have a problem.''
She Knows made her Highway debut on September 16 and was narrowly beaten before going one better five weeks later on a soft track.

She Knows wins a Highway at Randwick – October 21
Williams said the small margin can be attributed to the conditions which took him by surprise given the run of dry tracks through October.
"She's done well since her run at Randwick, which I felt she was underdone going into,'' he said.
"We turned her out for a couple of weeks after the first one and we thought we had enough work going into it but when the rain came it made it more difficult for her first try over 1100m.
"I'm sure from a fitness and educational point of view she's taken good steps since that run. There's a lot of positives going forward into the race.''
She Knows opened the $3.30 favourite for the first at Canterbury.
Williams is an unabashed fan of the Highway concept – that obviously shows in how regularly he supports the races – and said he's seen evidence that it has attracted interest in racing.
"My owners love them, I've had new owners come into the stable because of that fact,'' he said.
"I wouldn't be alone in saying that. A lot of country trainers have more horses in work now purely because of the Highway races.''