Danny Williams is acknowledged by his peers as a very astute judge of horse flesh, as well as having the ability of knowing when his horses are ready to perform
According to Danny "A Trainer usually acquires a Racehorse when an owner enquires as to whether you have room in your stables for a racehorse they have bought or Bred.
Some of these horses have conformation and soundness issues when they arrive and others may have already been to other stables and those trainers have moved the horse on for one reason or another. In some instances the above scenario turns out great, in other cases not so good because the horse came into the stables with a pre condition which may be difficult to manage".
As a contrast Danny Adds, "I enjoy the challenge to be able to go to yearling Sales with my Trained eye, and select the young, sound, well put together animal that I believe has every chance to make a real Racehorse". "Whether it be an early 2 year old I am looking for, who will train on at 3+4 years and beyond, or a Horse I believe to be a prospect ideal for The New and exciting "Country Championship Series" or The fantastic "Kosciuszko Country Series" and can go on and mix with The Big Boys in the City Class Races."
"During the process I engage with a Thoroughbred Breeding Analyst to assist me in scrutinising the yearling catalogues , highlighting the horses on Breeding based on bloodline nicks and crosses that have been successful in the past".
"I then inspect those selections for type, conformation and all the ingredients that I believe the animal requires to make a real racing prospect- only then do I consult my vet to do his work and cross check via 'repository radiology reports' and the like".
"So you see , this is a very thorough and diligent process necessary for me to undertake on each lot I select before considering purchase".
"After doing my due diligence I am armed with all the information I need to make an informed decision on my bidding and budget for purchase".
"During this process I estimate I find fault with 90% of the horses I inspect- and i don't pursue any further interest in those horses".
"I back my judgment on my purchases by retaining a financial interest in the young ones I select".
"If I am asking people to invest in horses I select- they need to know I am putting my money up as well ".
Danny adds, "I prefer to offer my recent yearling purchases to be raced in partnership rather than Syndication.
"A Partnership in Racehorse ownership allows for any number from 2 to 20 people in the ownership and part owners receive full ownership rights ". "This means that each owner has equal privileges as an owner irrespective if a person owns a small or large percentage of the horse".
"Your name appears on the registration papers and in the Race book and on Race Days irrespective of the percentage of the horse you own you receive the same privileges as an owner who owns a horse outright".
"This structure, I believe has more appeal than Syndication".
"In Syndication only the head of the Syndicate enjoys most of the privileges ( not the actual Members )".
"Entry to the horse enclosure and Members areas and other Raceday privileges are limited by numbers in Syndication, not so in partnership!" says Danny.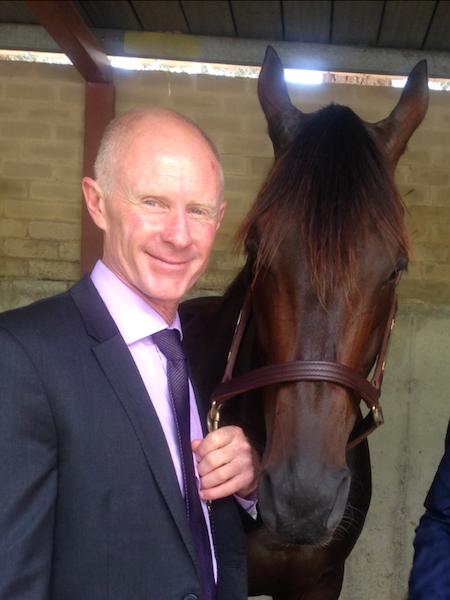 "I enjoy the challenge to be able to go to yearling Sales with my trained eye, and select the young, sound, well put together animal that I believe has every chance to make a real Racehorse"