Bush battlers shine brightest in Galaxy of stars
They could run another 100 Golden Slipper days and not find another story like it.
Shelby Sixtysix, an old gelding bought for $150,000, trained out of freezing Goulburn, not good enough to win at the Sapphire Coast in January, racing for the eighth time in the last nine weeks and winning a group 1 race on a day put on to make $40 million colts and giving his trainer, Danny Williams, a first victory at the elite level.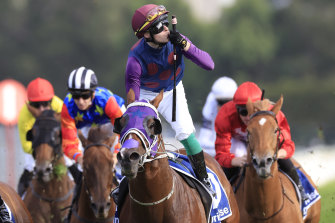 "I can't believe it, I just can't believe it," said Williams, shaking his head in disbelief after The Galaxy at Rosehill on Saturday. "What do you say?"
What can you say?
Horse racing, as much as we want it to be, is never predictable.
But the story of Shelby Sixtysix is something that just can't be explained. He wasn't even considered good enough to qualify to run in a heat of the Country Championships last month, a concept where bush horses compete in regions and then come together for a rich final at Royal Randwick.
Williams took him to town, ran in a four-horse race where he somehow beat the world's best sprinter Nature Strip and almost nabbed Eduardo, and then thanked the racing gods as the rain kept tumbling.
Last week, Shelby Sixtysix won his first group 3 on the slop. This week, he won his first group 1 under Robbie Dolan, gunning down Big Parade in the final strides of The Galaxy on another bog track.