Goulburn Trainers Have Their Horses Peaking For The Koscisuzko
The strike rate of Goulburn trainers both at home and away is well known in racing circles and was on display once again last Saturday as Danielle Seib scored her first city win with Assault"n'Bathory in the TAB Highway Handicap.
With just a few days left to secure a ticket in The Kosciuszko, the Goulburn galloper's victory was a timely reminder of the depth of horses available from the tablelands track for potential The Kosciuszko-winning ticket holders.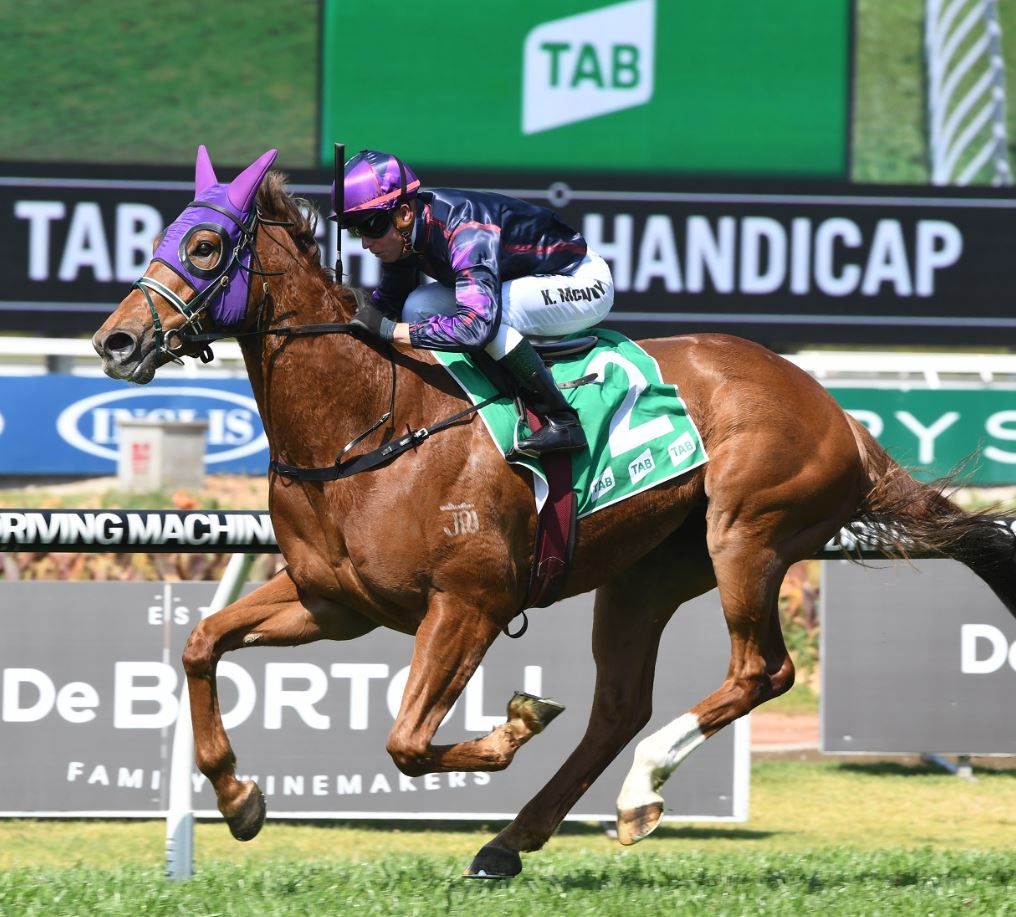 Don't Give a Damn (Kerrin McEvoy) – a leading contender for The Kosciuszko. Image by Steve Hart Photographics
Goulburn's reigning trainer of the year Danny Williams has a team of horses jumping out of their winter skin into spring.
He recently gave a good push for his super consistent gelding Don't Give A Damn on social media indicating the horse was right on track for a big spring.
"Don't Give A Damn had a jump out on Tuesday and easily won the workout looking in excellent order. He'll resume on Saturday 21st and is right on target for a ticket in The Kosciuszko," Williams wrote.
Williams also sees plenty of The Kosciuszko potential in some his other charges like the up and coming Floki.
"Our other Kosciuszko horse is Floki who won a recent trial brilliantly at Canberra is entered for the Federal at Canberra on Friday."
His tough mare She Knows who has been placed in group company is also licking out the feed bin by all reports with a return to racing scheduled for Saturday 14th September.
Another Goulburn trainer with plenty of recent runs on the board and designs on The Kosciuszko is Kurt Goldman.
Irish Songs was a city winner over the winter with Goldman's comments post-race on Sky Racing giving an indication of how highly he rates the horse.
"He's a very promising horse this. I've always had a good opinion of him and he's definitely on the way to good things."
Goldman also has a horse like Ruthless Agent resuming from a spell and is another galloper who fits the Kosciuszko mould. A six-time winner the gelding is a proven early prep performer horse, with four of his six wins having come either first or second up into a campaign.
'Twin peaks' would probably be the most apt description if Emma & Lucy Longmire could secure a spot with one of their 27-strong Goulburn stable. The twins of the tablelands turf have a smokey like Feel the Knight up and going.
The four-year-old made an immediate impact last campaign winning two of three starts and Emma Longmire says he is a real horse to watch this time in.
"He trialled at Moruya the other day and won very easily. The timing is perfect for him," Ms Longmire said.
"He still has some work to do to get his rating up but he is a real competitor. Has won every jump out and won two out of three for us to date.
"He is a progressive horse that has already performed well and we are targeting a highway race with him on the 21st September."
Tickets for The Kosciuszko close at 11:59pm this Sunday to secure a ticket in The Kosciuszko draw and a chance to be part of the $1.3m race on The TAB Everest day.
Goulburn will hold its next race meeting on Friday 13th September with nominations closing on Monday at 11am.
For more information on Goulburn-trained horses or to get in touch with a Goulburn trainer, contact the club on 02 4822 2222 or email – admin@goulburnraceclub.com.au