Shelby's rise an inspiration to keep dreaming
Shelby Sixtysix's story shows the dream is still alive in racing.
In an era of massive racing stables and mega-rich owners, Shelby Sixtysix proves everyone has a chance in this sport.
Trainer Danny Williams has toiled long and hard during his 45-year career in racing only to become an overnight sensation as Shelby Sixtysix made an extraordinary rise from the bush circuit to Group 1 glory during the Sydney autumn carnival.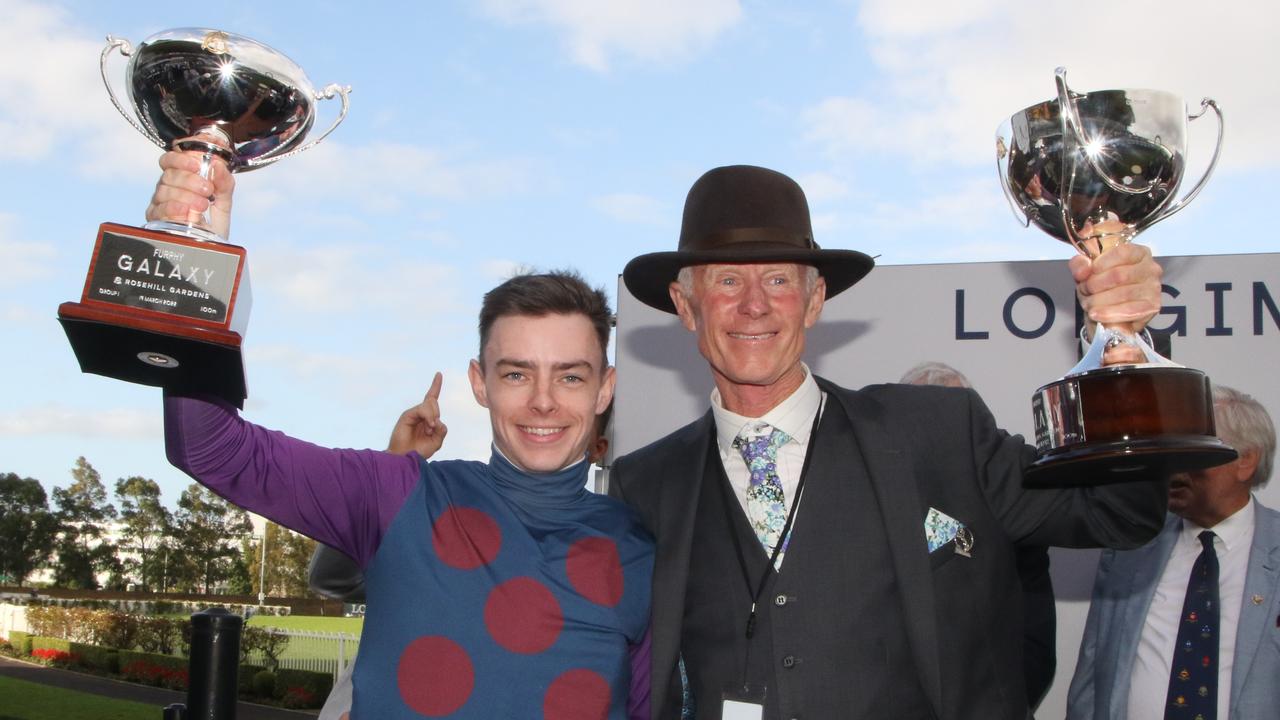 Trainer Danny Williams (right) and jockey Robbie Dolan celebrate Shelby Sixtysix's Group 1 win in the Galaxy. Picture: Grant Guy
Williams and Shelby Sixtysix became "the story" during the autumn as the bush sprinter earned cult hero status with his Group 1 The Galaxy win and second placing in the Group 2 Challenge Stakes, splitting Eduardo and Nature Strip.
There is even talk of Shelby Sixtysix getting a start in the world's richest turf race, the $15 million The TAB Everest, later this year.
All this from a horse Williams purchased for $150,000 as a yearling at the 2018 Classic Sales and only paid off two weeks ago.
But Williams isn't getting ahead of himself. Even if Shelby Sixtysix wins the Listed $200,000 Takeover Target Stakes (1200m) at Gosford on Saturday, the trainer recognises they are still a long way from securing an Everest slot.
"It's a bit difficult to imagine business people being enthusiastic about selecting 'Shelby' for The Everest – but it's nice to dream," Williams said.
"This horse was getting beaten in TAB Highways a couple of months ago and I think the Highway tag might stick with him, unfortunately.
"To use an analogy, I was a leading amateur rider and rode hundreds of winners but when I went professional, I still had that amateur tag. It didn't matter how many winners I rode, it never left me."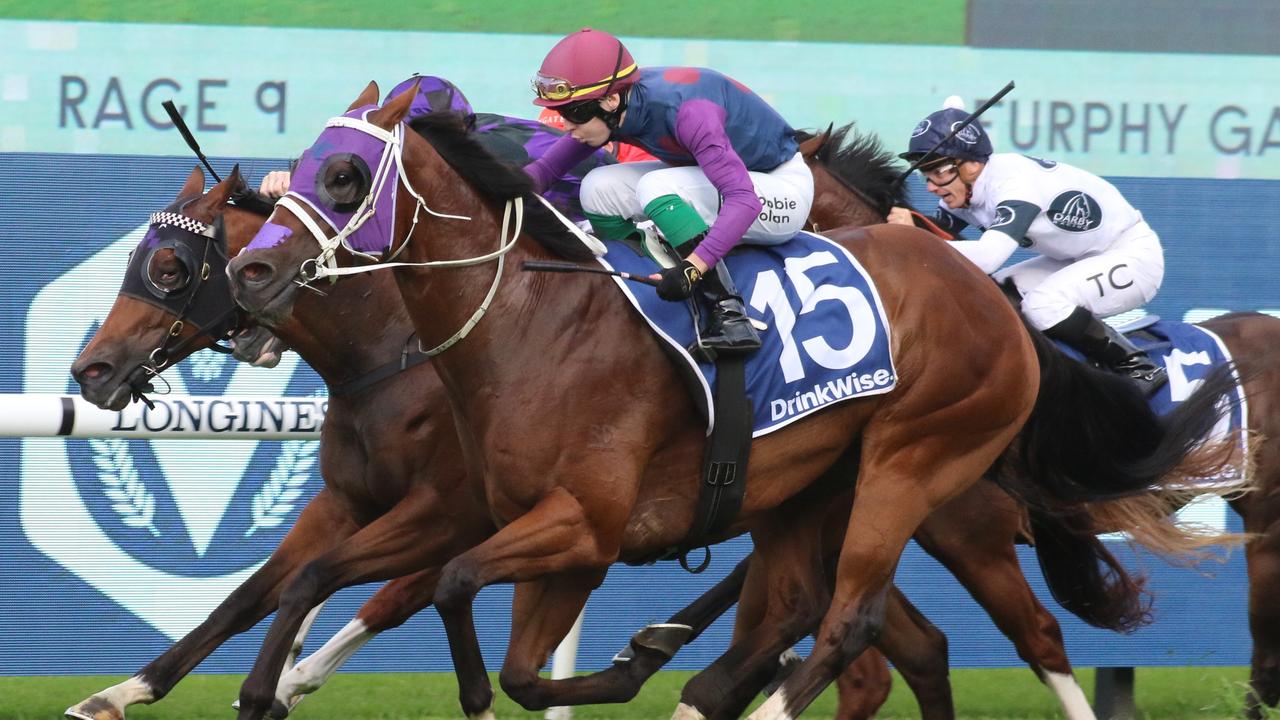 Shelby Sixty capped his amazing autumn campaign with a win in the Group 1 Galaxy at Rosehill. Picture: Grant Guy
Williams was just finishing trackwork at his Goulburn stable base when he took my call midweek.
The trainer's days are not punctuated as often by interview requests from media like it was just a few weeks ago and he has had time to reflect on the "madness" that ensued as Shelby Sixtysix shot to stardom.
"The ride we have been on with this horse has certainly given my stable a lot of media attention," Williams said.
"You can't pay for that exposure but it was very tiring at the time. It was also very stressful because leading into the TJ Smith Stakes that media interest increased ten-fold.
"But the auctioneering firms (Inglis and Magic Millions) have told me this horse's story has been good for their business.
"When I talk to country trainers it has given them the belief that anything is possible. Tim Martin is back training and I think it has given him the drive to do it again.
"Just the positive feedback I have got from everyone involved watching this horse has been incredible.
"I've had people that I don't know coming up to me saying they backed the horse in the Challenge Stakes and The Galaxy. It's amazing how many people have followed this horse."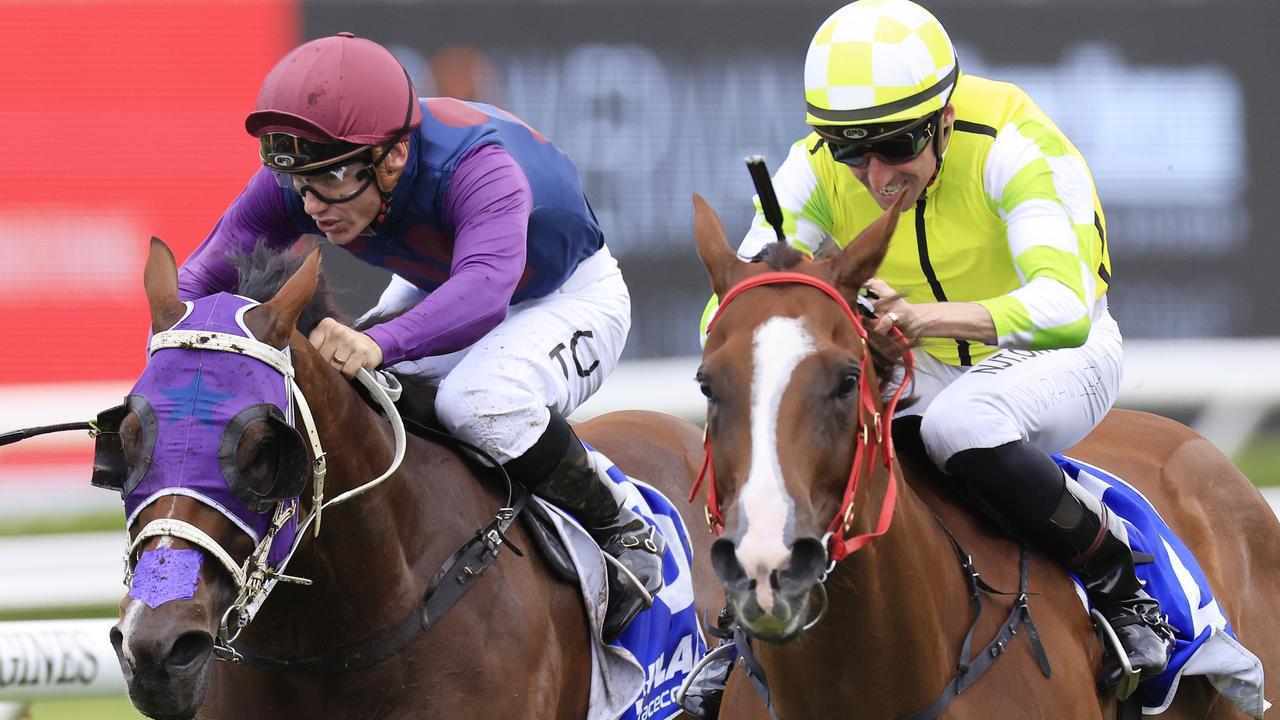 Shelby Sixtysix finished a gallant second to Eduardo and ahead of Nature Strip in the Challenge Stakes in March. Picture: Getty Images
Shelby Sixtysix's form surge this autumn has come after a lengthy 18-start campaign that began with an unplaced run in a Randwick Highway in September last year.
In fact, Shelby Sixtysix went winless in 12 races in restricted grade before Sydney's wet autumn coincided with career-best efforts over four successive weeks that began with a Highway win, his Challenge Stakes second placing, then triumphs in the Group 3 Maurice McCarten Stakes and Group 1 The Galaxy.
Shelby Sixtysix has since finished unplaced in the TJ Smith Stakes and Vobis Gold Sprint but he will go to Gosford as the race topweight with 59kg and challenging for favouritism at $5 behind Godolphin's Gravina at $4.20.
There would be a certain symmetry if Shelby Sixtysix can win the Takeover Target Stakes – a race named after another of the sport's remarkable rag-to-riches tales.
Takeover Target was purchased as an unraced four-year-old by part-time Queanbeyan taxi driver and trainer Joe Janiak for just $1300. The sprinter trained on to win 21 races, eight at Group 1 level including major race successes in England, Japan and Singapore, amassing more than $6 million prizemoney.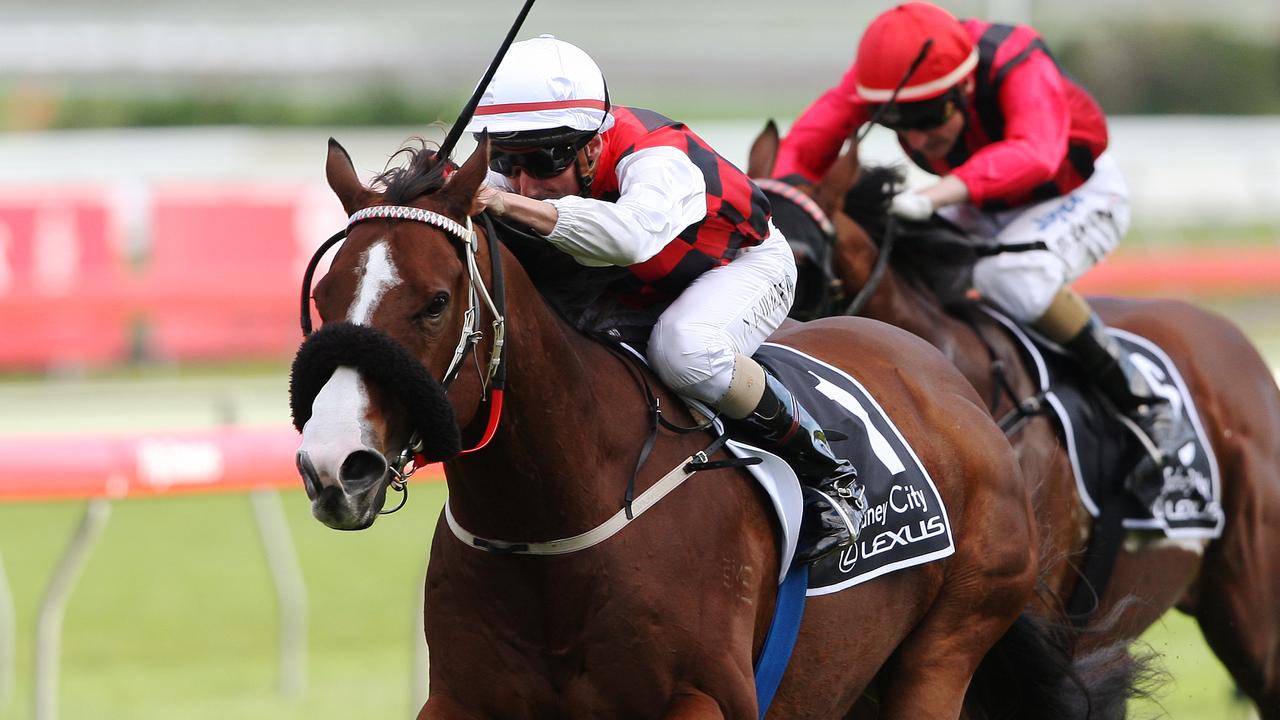 Takeover Target was another of racing's rags-to-riches stories.
Janiak's story has been the inspiration for a number of books and there is even talk of a movie. Williams and Shelby Sixtysix is a similarly incredible tale.
Williams has spent his working life in racing waiting and dreaming of that elite racehorse. He started as an amateur rider in 1977, putting his age up from 12 to 14 so he could compete without stewards suspecting any wrongdoing.
He trained the odd horse over the years before deciding to give professional riding one last chance in 1998. His first five rides as a jockey were winners but eventually he turned his hand to training.
The Goulburn-based trainer is renowned as an outstanding horseman who pays particular attention to detail.
Williams has trained his share of good racehorses over the years including Wasted Emotions, Kablammo, Don't Give A Damn, Normal Practice, Court Connection and Fox Lake – then along came Shelby Sixtysix.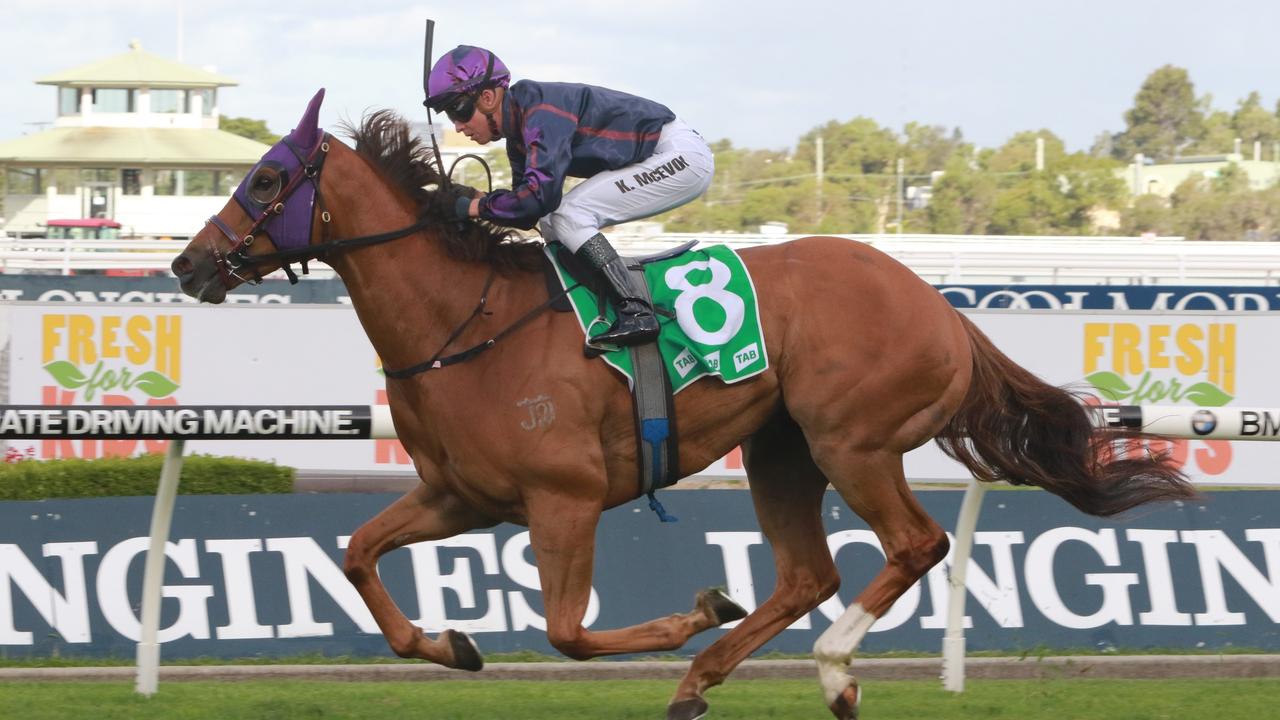 Don't Give A Damn was a good performer for Danny Williams. Picture: Grant Guy
"Every horse is different but Shelby Sixtysix is unusual because he needs to keep racing to stay fit," Williams said.
"It's a formula that works with many unsound horses and I've adapted my training as I have got older."
Williams said his training techniques have become more focused on equine welfare and trying to keep his horses sound.
"But when I changed the formula with 'Shelby' going into the TJ it all unfolded to the point where he pulled up lame," he said.
"He pulled up so well after The Galaxy and we had two weeks to the TJ so I had to work him and that was a turning point.
"You are sort of damned if you do, damned if you don't with this horse."
Williams said Shelby Sixtysix is nearing the end of a lengthy campaign but the gelding's Gosford effort will determine if he is given another chance at Group 1 level in the Doomben 10,000 on May 14 before the sprinter goes for a well-earned spell.
"The Gosford track is not ideal for him as he hits a flat spot in his races," Williams said.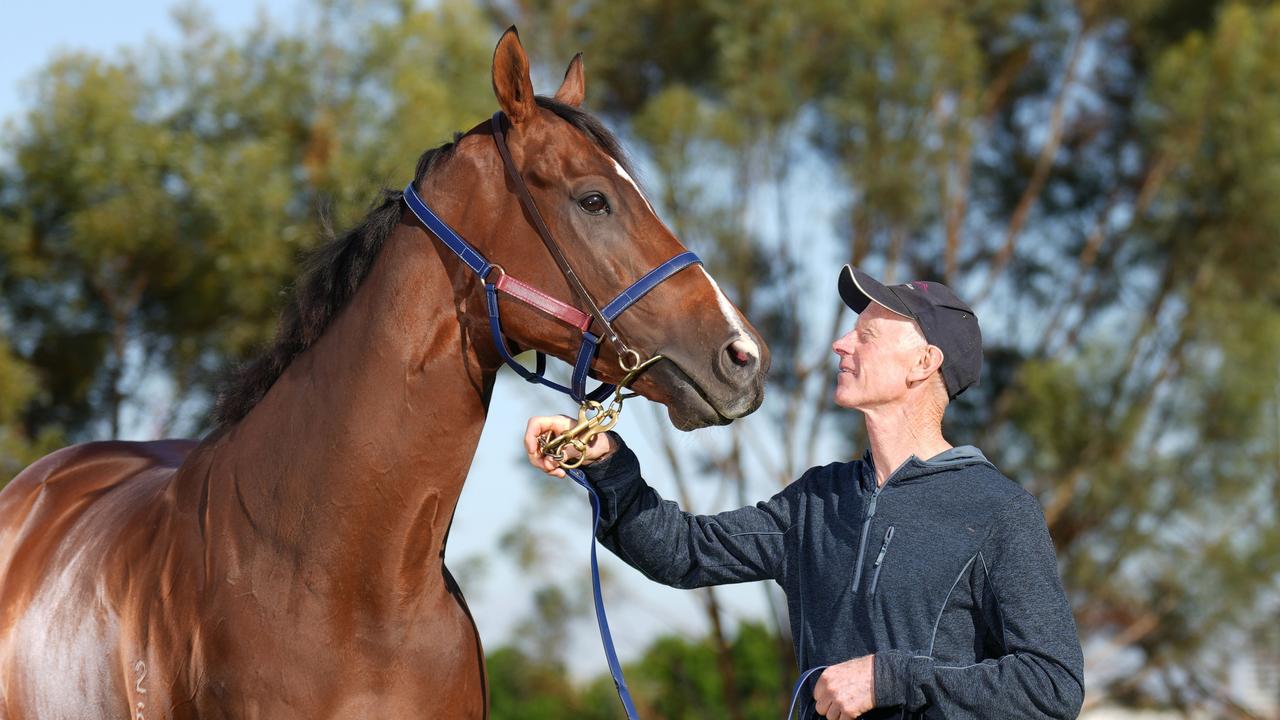 Trainer Danny Williams plans to head to the Doomben 10,000 with Shelby Sixtysix following his Takeover Target Stakes run. Picture: Getty Images
"Some of the jockeys that have ridden him have commented he hits a flat spot, they start riding him along and all of a sudden he lifts.
"But the Gosford race gives us the chance to go back to the formula of racing him fit. He is lacking a bit of that hard racing at the moment.
"Before we could run him in country races and it was just a matter of finding the right surface but now it is harder to find the right race for him with his rating.
"With his rating now, we have to look at different strategies to get him fit but the Takeover Target Stakes is part of the plan we have put in place for the Doomben 10,000."
Shelby Sixtysix's emergence this autumn has shined a positive light on racing – and the journey is not over yet. There's Gosford tomorrow, Doomben next week, maybe The Everest.
For Williams, he's hoping the ride isn't over yet. Despite the media attention and pressure that goes with training a Group 1 winner, this experience is what he has been working towards all his life.
"One day we'll look back on what's happened with 'Shelby' – people will be talking about it for a long time," he said.