Williams Makes Key Changes To Give Damn A Second Chance
By Ray Hickson
Trainer Danny Williams has taken a couple of precautions to ensure his leading Country Championships contender Don't Give A Damn has every chance to force his way into the Final through Sunday's $50,000 Wild Card (1280m) at Muswellbrook.
The four-year-old was the original $2.80 TAB favourite when markets were released prior to the Qualifiers and Don't Give A Damn's shock failure as a $1.70 favourite at Goulburn on February 24.
He's currently on the fifth line of betting at $8, which will firm considerably if he qualifies, behind the four horses who sat below him in the original market – Suncraze, Kopi Luwak (both $4.60), Snitz and Victorem (both $6).
Williams was very vocal after the Goulburn Qualifier about the time Don't Give A Damn spent in the barriers, the lack of a companion to the gates and the firmness of the track – all of which conspired to bring about his downfall.
So he's arranged for a clerk of the course to accompany Don't Give A Damn on Sunday and is confident, with Kerrin McEvoy making the trip to ride, he can produce his best.

Don't Give A Damn producing his best winning first-up at Rosehill in February
"Kerrin will be a key figure in the performance of the horse I'm sure and he has a few things in his favour,'' Williams said.
"What happened at Goulburn won't sit in the back of my mind because the horse pulled up a bit jarred up, the track was very firm and the horse felt it so we are hoping it's not too firm on Sunday.''
Don't Give A Damn, along with Williams' qualified duo of Kopi Luwak and Pumpkin Pie and his second Muswellbrook runner Acquittal, spent a week at Mouruya recently working on the beach.
Williams said the quartet appreciated the change of scenery and were back in Goulburn to have a jump out on Wednesday morning.
After his Goulburn defeat Don't Give A Damn was ordered to trial and he passed that test with flying colours on his home track on March 15.
"I didn't ask the jockey to do any more than just to get him passed,'' he said.
"He's drawn perfectly on Sunday and if we can get him onto Randwick, which is going to be a softer surface, that's when you're really going to see the best of him.
"If the track is a bit firm at Muswellbrook it could make him a little vulnerable.''
Muswellbrook was rated a soft 6 at acceptance time and with fine weather expected it should be in the good range come Sunday.
Acquittal is already the South East District's emergency for the $500,000 Final at Randwick on April 7 and with the scratching of Epic Decision he will have his second chance to make the final 16.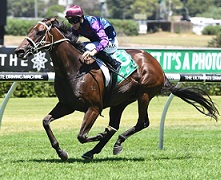 Acquittal winning a Highway at Randwick in January. (Pic: Steve Hart)
He said while coming back in distance isn't ideal he feels Acquittal is in career best form. Williams has long been bullish about the three-year-old's ability and he has a win over Kopi Luwak earlier in the year.
"The trip away stimulated him and really brought him on,'' he said.
"I thought out of the Goulburn race his was the best run of the race. The only concern with him is coming back in distance.''
Two other third placegetters from the Qualifiers are back to try their luck with Matt Dunn's Iggy The Moocher (third at Grafton) and Cameron Crockett's Ori On Fire (third at Mudgee) also among the acceptances.
The Mack Griffith-trained Most Exalted, who was an easing favourite in the Mudgee heat before finishing seventh in the trying conditions, is expected to be Don't Give A Damn's biggest threat.
The Wild Card has produced results in the Final with Artlee winning at Muswellbrook before taking out the Final six days later in 2015 while After All That ran second in both the Wild Card and the Final last year.
All the fields, form and replays for Sunday's Country Championships Wild Card meeting at Muswellbrook